To Play the Music Simply Click on The Title
If you don't hear the Music you can Download The Midi Player Free.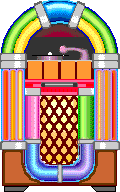 Get a FREE MIDI PLAYER here,
if you need one!
To Save the Midi Files to Your Local Computer Right Click your Mouse and Select Save as.
We will ad More Midi's Later
Once you Click on a Song to Hear it, If you want to adjust the Volume etc, Just put your mouse on the Player and Right Click Your Mouse and a menu will appear that will give you Control.
60's Only
50's & 60's