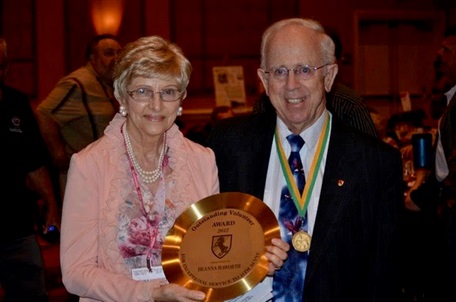 Chaplain Lawrence "Larry" Edward Haworth
February 14, 1937 - August 15, 2022
HHT 2/11 ACR, 1969-1970
Legendary Blackhorse Trooper Chaplain Larry Haworth is now passing through Fiddlers' Green on his way to a well-deserved reward and an honored seat in His Savior's presence.
Larry died 15 August 2022, at the Army Residence Community in San Antonio of natural causes.
Chaplain Haworth and his wife Deanna were known and loved by the phalanx of Blackhorse Troopers, not only those who served in Vietnam, but also many of the Fulda Gap Legion in Germany. Both were ever present at all the 11ith ACVVC reunions from 1986 through 2015, when their debilitating health no longer permitted them to travel. They moved into the Army Residence Community in San Antonio; Deanna passing in January of 2021 and Larry, this August. Both will be interred together at a cemetery in Newhall, California in September.
During 1969-70, Captain (Chaplain) Larry Haworth was assigned to the 2nd Squadron, 11th Armored Cavalry Regiment. It was Larry's second tour in Vietnam, and he kept his drive and enthusiasm for staying with the cavalry troopers in the field. Larry was given the well-earned call sign, "Saint 6."
His connection with the cavalry was only beginning. A few years later, the 11th ACR was in Germany, and Larry was a community chaplain in the Cav's area. Once the 11th Armored Cavalry's Veterans of Vietnam and Cambodia was formed, Larry continued his ministry in attending every reunion for the next 30 years.
On Thursday, 14 February 2019, ten members of the 11th ACVVC came to San Antonio to present Larry with a Lifetime Achievement Award, in testimony to his many years of dedicated ministry. The surprise visit was headed by 11th ACVVC Vice-President, Frank Church who read:
"Capt. Lawrence E. "Larry" Haworth was the chaplain for the 2nd Squadron, 11th Armored Cavalry Regiment in Vietnam during the period of 1969 and 1970 (8/1/69 – 7/31/70). Every Sunday he would make his rounds to all the front-line troops by air or land, across rice paddies and through jungles. He would travel to where we were.
He would bring in his bag, his Bible, his robes and set up a make shift altar on sandbags, C-Ration boxes or whatever was available. He would hold religious services for anyone that felt a need to attend.
I attended some of these services and always came away with a better feeling in my soul. After the service he would always give everyone an opportunity to speak with him privately. I took advantage of that at least once. I don't remember what the topic was, but I do know that it meant a lot to me for him to listen and offer spiritual guidance for those were horrific times in the life of a soldier. There is no doubt that many young men enduring the ugliness of war felt the same as I did.
In 1986 the veterans of Vietnam formed an organization known as the 11th Armored Cavalry's Veterans of Vietnam and Cambodia (11th ACVVC). Col. Haworth was one of many that joined our organization. Annual reunions were planned and held with Larrry once again traveling and serving as our chaplain.
For over 30 years he made every reunion across the country and once again donned his robes and Bible and presided over our memorial services and Sunday Worship. Offering his spiritual guidance and love for us.
He also wrote an article in every Thunder Run quarterly newsletter. They most often were based on experiences from Vietnam that we could all identify with. He would add a passage from the Bible that related to that article. He always signed off with, "God loves you and so do I."
For his service to his Country, God the 11th Armored Cavalry and the 11th ACVVC, he was presented the highest honor we convey to our members. The 11th ACVVC Lifetime Achievement Award. God loves Larry and so do we, the troopers of the Legendary Blackhorse Regiment.
Chaplain Bill Karabinos
HHT 2/11, 1971-1972
Memorial Service for Chaplain Lawrence Haworth
Eternal Valley Memorial Park & Mortuary
23287 North Sierra Hwy
Newhall, CA 91321
Friday, 14 October 2022
2:00pm - Memorial Service in the Chapel of the Oaks immediately followed by:
3:00pm - Burial Service graveside (veterans memorial park in the cemetery)