Citizenís tip helps U.S. Soldiers seize weapons cache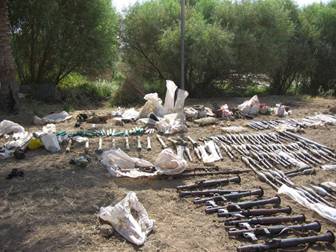 Contents of a weapons cache discovered in west Abu Ghraib by Soldiers from Bravo Company, 1st Battalion, 11th Armored Cavalry Regiment. An Iraqi citizenís tip helped the Soldiers find the cache. (photo courtesy of U.S. Army)
Blackanthem.com, BAGHDAD, Iraq, September 26, 2005
Task Force Baghdad Soldies, acting on a tip from a Iraqi citizen, seized a weapons cache hidden in west Baghdad at 11:30 a.m. Sep. 25.

The Soldiers, from Bravo Company, 1st Battalion, 11th Armored Cavalry Regiment, discovered 85 mortar rounds, 14 rockets, two artillery rounds and three mortar tubes. The cache also contained eight rocket propelled grenade launchers with 144 RPGs and 30 RPG chargers, three anti-tank weapons, 20 hand grenades, two machine guns, two assault rifles, 23 recoilless rifle rounds and 75 pounds of ammunition.

The patrol found bomb making materials and 100 feet of detonation cord at the site as well.

Task Force Baghdad leaders said they believe these devices were being used by anti-coalition forces to target Iraqi Security Forces and Coalition Forces through conventional attacks and roadside bombings.

The Soldiers secured the site to deny terrorists from returning and using the munitions in the future.

By 1st Brigade, 10th Mountain Division PAO