Soldiers spot suspicious behavior, find weapons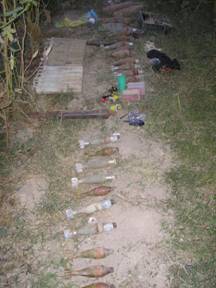 Weapons and bomb-making materials are spread out on the ground for inventory after Soldiers from 1st Squadron, 11th Cavalry discovered a cache in an Abu Ghraib house Nov. 29. (U.S. Army photo)
Blackanthem.com, BAGHDAD, Iraq, December 01, 2005 14:42
Task Force Baghdad Soldiers found three improvised explosive devices hidden in an Abu Ghraib house Nov. 29 and detained one suspected terrorist.

Soldiers from 1st Squadron, 11th Armored Cavalry Regiment were conducting a routine patrol in the area when they came across three individuals who were acting suspiciously outside of the house. Upon investigation, the Soldiers discovered a wealth of terrorists' weapons. One suspect was detained for further questioning.

The Soldiers found three IEDS, one made from an 81-millimeter round and two made from 60-millimeter rounds, 12 mortar rounds, one stick of nitroglycerine, timers and blasting caps, a two-way radio, black ski masks, one rocket-propelled grenade, a mortar tube, and 12 shotgun shells filled with nitroglycerin.

The suspect is currently in U.S. military custody.
By 1/10th Mountain Division PAO