Citizenís tip leads U.S. Soldiers to bomb parts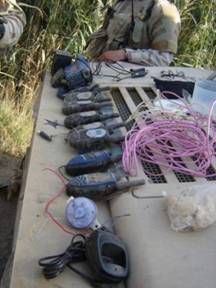 Cell phones and other items rigged for bomb detonation sit on the hood of a Humvee Nov 6 on a road in rural Abu Ghraib 6. Soldiers from 1st Squadron, 11th Armored Cavalry Regiment the weapons cache based on a tip from a local resident. (U.S. Army photo by Capt. Jon Fausnaugh, 1/10th Mountain Division)
Blackanthem.com, BAGHDAD, Iraq, November 08, 2005 13:55
Acting on a tip from an Iraqi civilian, Task Force Baghdad Soldiers discovered bomb-making materials Nov 6. in the back yard of an Abu Ghraib farmhouse.

The tip led Soldiers from 1st Squadron, 11th Armored Cavalry Regiment, a unit from Fort Irwin, Calif., to five possible terrorist safe houses. The search began around 6 a.m. At noon, the Soldiers discovered cell phones and a video camera in a bucket buried behind the farmhouse.

This find led the unit to conduct a more extensive search of the area, which netted several more items intended for improvised explosive device construction.

The Soldiers found one car battery, 10 cell phones with wires, four voltage regulators, one video camera, a ski mask, eight cell phones wired for IEDs, 15 feet of detonation cord, a washing machine timer, eight sticks of dynamite encased in rock plaster form, one 60-millimeter rocket, two 107-millimeter rockets, and plastic explosives.

Iraqi Security Forces and Task Force Baghdad officials continue to encourage all Iraqi citizens to report suspicious behavior by e-mailing baghdadtipshotline@yahoo.com or calling one of the TIPS hotlines at 07901737723 or 07901737727.
By 1/10th Mountain Division PAO