11th U.S. Cavalry Blackhorse
100th Anniversary 2001 Full Color Calendar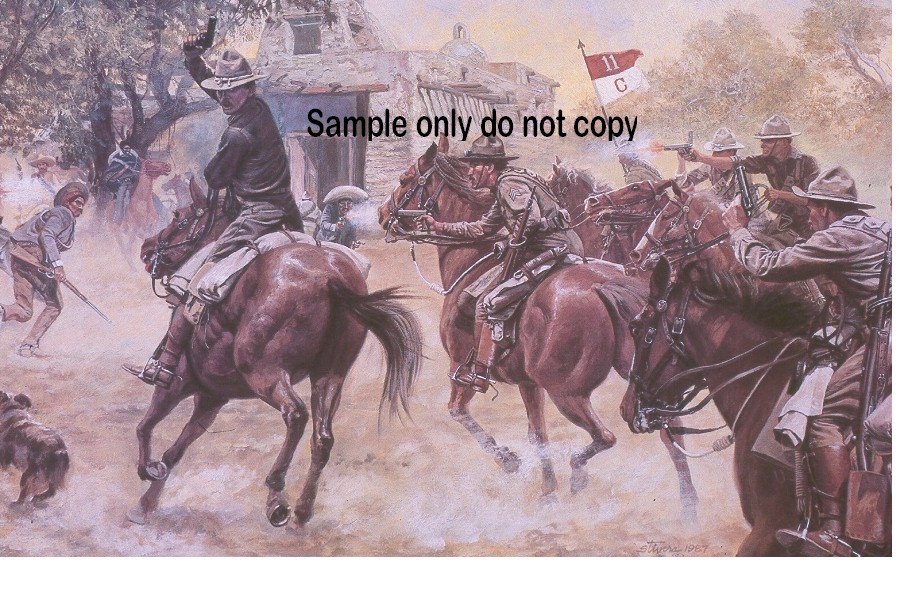 The 100th Anniversary Calendar is the Perfect Gift For Any 11th U.S. Cavalry Veteran, Family Member or Military Enthusiast!
Each month shows a different photo depicting the 11th U.S. Cavalry during combat with a descriptive caption.
Includes special dates of interest pertaining to the 11th U.S. Cavalry.
Annual 11th U.S. Cavalry Reunion Listed.
The 100th Anniversary Calendar will become a collector's item!
Oversized (BIG) 17 x 11 inch format.
The following Limited Edition Prints will be included on the calendar.
These are the best Military Artists in the world. Order extra copies for gifts.
A very rare opportunity to own hundreds of dollars in art at an unbelievable price.

"Find the Bastards - Then Pile On".......Jim Dietz Vietnam
"The Last Charge" ........Don Stivers....Mexico
"Frontiers of Freedom".....George Finley....Germany
"Point of Penetration"....Ken DeWar ......National Training Center
"Have Gun Will Travel"...Joe Kline....Vietnam
Send all orders to:
11th U.S. Cavalry 2001 Calendar : Turner Publishing Company : P.O. Box 3101, Paducah, Ky 42002
Visa / Master Card orders call 1-270-443-0121
RESERVE YOUR COPIES TODAY
Please enter my order for _____copies of the 11th U.S. Cavalry 2001 Calendar - Only $10.00 each.

Add $5.00 shipping and handling for up to three copies, $1.00 for each additional.

Kentucky residents add 6% sales tax.

Total Enclosed_________________________

Ship To: Please print

Name_______________________________________

Address_____________________________________

City__________________St_________Zip_________

Phone Number_______________________________

HB - 11th Cav Cal- For office use only

Amount________Ck#__________Number ordered_______