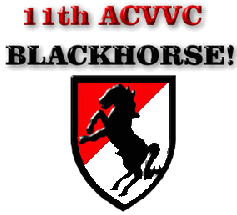 Chaplain's Corner
Chaplain Bill Karabinos
4th Qtr 2018
From the Cambodian border to the South China Sea. Distance from Loc Ninh to Ham Tan: 225 kilometers (near 140 miles) as the crow flies. The 2nd Squadron, 11th Armored Cavalry Regiment was spread across South Vietnam in December, 1971. Two of the three field troops as far apart as Detroit is to Grand Rapids or Atlanta is to Augusta.
One week I was bathing in the iron ore stained Song Be River near the Cambodian border and along the Ho Chi Minh Trail and the next I was standing on a gleaming sandy beach on the South China Sea.
Blackhorse chaplains usually visited each field troop and fire base on a set day each week. I broke protocol to stay with G Troop and two Howitzer Batteries on the road march (and caught an ear full) for the few days that took us from the mud flats of FSB Andrews to the northern most point of Vietnam's highway 13 and then east to Bo Duc and the Boi Loi unfriendly woods. One particularly vivid memory is that of LT Jim Machut on his knees. He wasn't just praying, he was probing with his knife for mines. He wasn't about to risk his self-propelled 155's crossing a dangerous stretch. Another memorable experience was jumping into the cooling rust colored waters of the Song Be river to wash off three days of road dust and grime from both my jungle fatigues and then my body. Even in that hostile environment, it was a refreshing swim. The following week, I had a near-tourist like moment along the South China Sea.
F Troop was running security for the Rome Plows engaged in a land clearing operation along the East Coast of South Vietnam. I could hardly believe my eyes when I saw that brilliant beach and that was from the air. Later, after landing at the Troop laager which would become our NDP, a ground level visit made me close my eyes, as the beach was so brilliant in the bright equatorial sun that even my sun glasses were of little help. Along that beach and in the small little hamlet of Ham Tan I was in awe of the calm, beauty and serenity of the entire scene.
I can't help thinking these days, as like most of you, I am daily bombarded by brochures, Facebook ads and unsolicited calls from travel agencies, that those trips; to the Boi Loi Woods and the upper Song Be river, the Michelin rubber plantation and the beaches of Ham Tan would make great tourist destinations.
A lot of our troopers have gone back to re-visit Vietnam. For many it was a good experience; some a melancholy one. But nonetheless, the trip is now an option, not only for Armored Cavalry veterans of that war, but for anyone who can foot the bill. In a stretch, in a strange sort of a way, there are places in Vietnam that have been made hallowed ground -- sprinkled with the blood of our Vietnam veterans and those American servicemen and women who didn't come home. Those who have gone back, family members of our KIA's and other Americans who have grown up with a sense of pride in our history, heritage, culture and the moral values this country has striven to preserve throughout its history, believe a return trip to Vietnam a near sacred pilgrimage.
Like Gettysburg, where over 150 years after the battle, thousands still visit as it is hallowed ground. I know that when I do, my walk between the monuments is as a walk between the headstones of Arlington Cemetery. I speak in a hushed whisper and am oblivious to surrounding sounds. Gettysburg is hallowed ground, where every one who fought there or died there was an American.
I can't precisely describe a visit to such sacred ground, few of us can. But a man who fought there and who also nearly died from his wounds twice, in that great civil war, does it well. General Joshua Chamberlain said: "In great deeds something abides. On great fields something stays. Forms change and pass: bodies disappear; but spirits linger …. And reverent men and women from afar, and generations that we know not of … [are] ... drawn to see where … great things were suffered and done for them ..."
In time physical characteristics change. Cities and towns we grew up in have changed in the last fifty years. So too, the people. The adults you knew and respected in your youth have mostly passed on, now the kids you grew up with all look like them. Even peoples' values change as do the things they hold dear. Only it seems, does our memory persevere. When we road marched up Hwy 13 some 48 or 50 years ago, all we saw was the sad sight of that country. Poor people, kids begging for candy, hustlers trying to sell us gold chains or their sisters, and even "Pharmaceuticals."
The sadness, poverty, destruction and fear we were surrounded with on our road marches have faded away. Now, should we make the same trips, it would be with luster, smiles, joy and a sense of opulence.
Reflecting back, it is scary. Beauty overshadowed by fear. Loveliness hidden in squalor, Trust dissolved in anger. Joy buried by hatred. Those values we once were willing to fight and die for, now mocked, disrespected and belittled. I don't have to give examples, you are all adults and know what I'm talking about. You all have experienced it.
At our reunion in Grand Rapids, I was startled by a sudden change just as our banquet program started. I could barely hear myself think as 1300 filed in, looking for a seat at a table, for their buddies or family members, slapping hands or backs or clicking glasses. And then suddenly, and immediately the entire din ended when President Pete Walter asked us to stand for the Pledge of Allegiance.
It was a lighting strike in reverse, from a din of 90 decibels to zero in a light-year second. That moment: as common to us, as simple and repetitive, would be a revelation to the media circus world we now live in. That VALUE of respect for God, Country, Flag, … our fellow troopers, family, home and each other is growing too rare. Some even trying to make it pass away.
I have been happy and joyous in a land that you, your fathers, and their fathers, and all the generation of military servicemen have secured for us. I love who I am and where I am and where I can go to see America the beautiful. As accomplished musician and rough throated singer, Louie Armstrong sang in 1968: "I see friends shaking hands ...saying: 'how do you do.' They're really saying … I love you." I hear babies cry, I watch them grow … they'll learn much more, than I'll ever know." We can't let our joy, so comfortable for us, our families, those around us be disturbed by hatred.
We are still soldiers who can fight back, not with guns and bullets now, but with a sense of pride in who we are and what we have done; accomplishments that let us smile, perform random acts of kindness and a grant us a determination to … make someone happy.