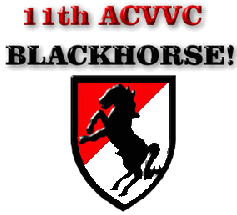 Chaplain's Corner
Chaplain Bill Karabinos
4th Qtr 2017
An Incredible Poem
No sooner had I returned home from the 32nd reunion that I was asked to participate at the burial of an Air Force veteran of both Korea and Vietnam. The family had not requested an honor guard and there was neither a military nor Legion or VFW presence at the interment. My friend's ashes were placed in a vault at a memorial garden cemetery in Virginia. The traditional folding of the flag, fired salute and playing of Taps were all missing.
After the final prayers were concluded, I stepped forward to presumptively represent the United States Armed Forces and a grateful nation. I acknowledged my friend's long service to his country, spoke a bit about his career, offered what words of comfort I could muster to the family and then read the poem that the 11th Armored Cavalry Veterans of Vietnam and Cambodia traditionally use at our Memorial Services: "Bury Me With Soldiers."
At our reunion in Orlando, we recognized over 600 of our brothers who passed this past year; it was a dutiful and solemn salute. During that ceremony we had one of our troopers read the poem, "Bury Me With Soldiers." Hundreds of you have heard it any number of times, or rather have heard parts of the poem. I haven't attended any reading where a Black Horse trooper could finish the recitation with a clear and steady voice and without pauses to gather himself. That's true of me, and it would be true of most of you. Many of our troopers do not want to take on the responsibility of reading that poem as they know that it will tear up their hearts so much with memories of those events in our service in Southeast Asia that we would rather forget or better still; have had no part in. This year Trooper Roger Dennis took on the awesome task and he too was moved like all before him. Roger bravely managed to finish, something few of us could have handled.
It is an incredible poem and so rich in meaning. When I first perused it, I didn't think it was that good and poetic. I was never a poetry fan in my school days. But after I heard it read the first time, I noted how touching the words were and how deep the meaning. Each time since then, the poem glues me to a seat on the back of a track, bouncing through a dry field at the edge of a jungle and concerned that red ants aren't falling from trees and down the back of my neck. It echoes rifle and resonates machine gun fire, mortars popping and rockets whizzing into our midst and chopper blades slapping wind overhead. It is an awakening from a long dream … and not a good one. That is why, we can't read it without pause, without our hanker chef turning into a dish rag, without swallowing our tears and without a burning stomach. It is a powerful poem.
For a while, the author was listed as unknown. Pete Walter set me straight and found the name and address of the author. The author was Charlie Fink, Sergeant of the 199th Light Infantry Brigade, serving in Vietnam in 1969 and 1970. Charlie and his Delta Company actually did run a lot of operations with the 11th Cav while in country. He too is one of ours in a cousinly combat unit fashion.
When Charlie returned to the States and left the service, he began divinity studies and is now the pastor of a parish on the south shore and in the middle of Long Island: Monsignor Charles Fink.
Thanks to Pete, I have been in touch and Charlie responded to my letter on the 25th of September. I'll include only parts of his message: "Thanks very much for your kind and gracious letter. I remember the 11th Armored Cav very well. We ran a lot of operations with them when I was in Delta Company, 2/12, 199th Light Infantry Brigade. Some of my first experiences of being in the boonies were with you guys. I'm always very gratified and humbled when I hear that my poem has touched other veterans and their families. An elderly woman called me from Connecticut one day not long ago to tell me that her husband, a WWII vet who never talked about his war experiences had recently died. She found "Bury Me With Soldiers" folded up in his wallet and wanted to thank me for giving him something to hold on to. I did write it while I was in the seminary, and in reaction to some nasty things that were said about Vietnam Veterans. I'm honored you found it helpful in your chaplaincy work. God bless you and yours and all our veterans."
So I too had a very difficult time reading the poem at the cemetery where we buried my friend and Air Force veteran, Master Sergeant Don Aspinall. Don served 23 years, was the son of a career Air Force Master Sergeant and brother of a United States Marine, whose name is on that Wall that we reverently and proudly touch at least twice annually at the 11th Cav gatherings in DC on Memorial and Veterans days. And yes, I did have a folder flag that I could present to the widow of our fellow soldier "... on behalf of a grateful nation."
Chaplain Bill Karabinos
HHT 2/11 ACR 71-72
BURY ME WITH SOLDIERS
I've played a lot of roles in life;
I've met a lot of men;
I've done some things I'd like to think
I wouldn't do again.
And though I'm young, I'm old enough
To know someday I'll die,
And think about what lies beyond,
Beside whom I would lie.
Perhaps it doesn't matter much;
Still, if I had my choice,
I'd want a grave 'mongst soldiers
When at last death quells my voice.
I'm sick of the hypocrisy
Of lectures by the wise.
I'll take the man, with all his flaws,
Who goes, though scared, and dies.
The troops I knew were commonplace;
They didn't want the war.
They fought because their fathers and
Their fathers had before.
They cursed and killed and wept—God knows
They're easy to deride—
But bury me with men like these;
They faced the guns and died.
It's funny, when you think of it,
The way we got along.
We'd come from different worlds,
To live in one no one belongs.
I didn't even like them all;
I'm sure they'd all agree.
Yet I would give my life for them.
I know some did for me.
So bury me with soldiers, please,
Though much maligned they be.
Yes, bury me with soldiers, for
I miss their company.
We'll not soon see their like again;
We've had our fill of war.
But bury me with men like them
Till someone else does more.
--Msgr. Charles Fink, formerly
Sgt., 199th Lt. Inf. Brigade, Vietnam (1969-70)