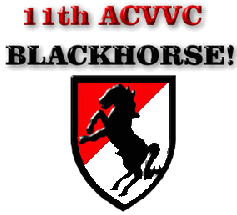 Chaplain's Corner
Chaplain Bill Karabinos
2nd Qtr 2018
Gravitas.
Seldom hear it. But when it is pronounced or written, I take notice.
I kind of love the word, like Mr. Rodgers loved his sweater. Gravitas, a Latin word for heavy: a force; like in gravity or the force of gravitation. Heavy, serious, compelling, important, grave consequence, solemnity, legacy and dignity are all wrapped up in our oft used title: The Legendary Blackhorse Regiment.
If you want to witness serious gravitas, observe the changing of the guard at the Tomb of the Unknowns in Arlington Cemetery. I dare you to stand on that polished marble on Ground Hog Day [which also happens to be the birthday of the Regiment] when the wind chill is minus ten for an additional ten minutes after the ceremony. You can't do it without flinching, stomping your feet to keep them from freezing or blowing on your hands so you can warm your ears. But there in front of you as you gaze at the Tomb with the Washington Monument prominent in the background as if guarding a field of precisely ordered military headstones, our Army Tomb Guards pace twenty one steps from west to east and then after standing tall for twenty one more seconds from east to west. They add dignity, high-spirits, morale, pride and blessed gratitude that reminds us that we live in a great country, defended now, and since the beginning by great soldiers.

Gravitas is also the ruffles and flourishes sounded when the President enters a chamber … played since the days of diminutive President Polk, who was so short that without the music, no one would have noticed that the President of the United States entered the room.
Gravitas is a twenty-one gun salute and the playing of Taps at a funeral of a Trooper in a little village in the Shenandoah Mountains or the high plains of Wyoming; in the burial of a soldier in the Andersonville National Cemetery in Georgia or in Jefferson Barracks National Cemetery in Missouri. It is also and seldom noticed as we stand at attention during the playing of our National Anthem. I just love the word.
My son recently used it as he was bent over an oven, basting a roast and explaining to one of his nephews the reason for ceremony and symbols to mark the right of passage from Cub Scout to Boy Scout and how they not only honor those to be rewarded, but underline the rites of passage, the ritual of honoring achievement and emphasizes the power and wisdom of the Scout Law. Ritual, Rites, Liturgy, Tradition, Ceremony, Medals, Honors, Certificates and even crowns all speak gravitas.
America has always called upon its Army to do the hard jobs, and the Army has answered the call. We are a free Nation looked upon by billions of people around the world as the standard-bearer of freedom – freedom guaranteed by great soldiers and loyal veterans who have served our country well.
We are an Army of tradition. Our greatest tradition is service to our country, and in that service we ask our soldiers to carry out tough missions all around the world. You all sailed or flew half way around the world to uphold that mission. Many of you were sent off by ceremonies reeking with gravitas as you left -- few of you came home to be greeted with any form of respect. We waited a long number of years to enjoy the splendor of ceremonies and take pride in the uniform we wore and glory in our efforts and sacrifices.
But together then, we still come together again. As our venerable Chaplain Larry Haworth often wrote: "together again matters … together again sets in motion stories from distant days and friendships that had once faded away but are now happily renewed." It happens all the time. Seldom does a week go by, or a trip complete that I don't hear someone point at my 11th Cav badge or cap or jacket and hear: "Blackhorse." I stop in my tracks.
I even start to think that had I not been a Blackhorse trooper, I would have faded away like an old soldier. But by the grace of God I found a family in Vietnam and with each greeting of "Blackhorse" or "Allons". I hear triumph trumpeted across the landscape.
At our Orlando Reunion, we even forgot (inside the hotel) that a hurricane was bearing down as we continued to renew old friendships and make new ones. Since then, I continue to meet other former troopers or hear from comrades from almost 50 years ago. It is such a joy to hear about their lives, their families, their jobs and even their pets and travels. I take particular pride in hearing of their love for their families, their country and their God,
Their God: Our Father. Jesus taught us to pray in a revolutionary way. In his time God was known as the Lord, the Almighty, maybe even an avenging God, a staunch controller of our lives, of men and nations -- thunder and sun and clouds, light and darkness. God was scary. But Jesus said when you pray say: "Our Father." Our father, like the father that loves us and ever forgives us and even welcome us back; sometimes even after we kicked him in the teeth. Our Father! What a wake-up call.
Combing through my old files, I found a letter from a lad I served with in Vietnam. He was in F Troop of the 2nd Squadron in 1971. Robert lives in Michigan, a little south of Detroit. Robert Lessnau wrote in July 2007: "When I was in Nam, I thought the Lord wasn't interested in a guy like me. I felt so "Unworthy" or something, although I attended services in the field when possible. By the time I got out of there, I was ready to commit due to the fact that God kept me alive against all odds. I've been on fire for the Lord ever since; deeply committed to him. God has come through in my life in millions of ways, but what's especially meaningful for me is the small things. For instance if I'm not feeling my best, maybe waking up kind of sluggish or something or maybe just a cold, that sort of thing, I can always be assured that God will give me an easy day. Those little things mean way more to me than the big stuff. Hard to explain why, but I guess if just impacts me that with all He has to do, He cares about my day."
Yes Robert, a loving Father does care about your day and all of us and our days as well.
Hope we see you at the reunion, we are going to be in Michigan, only about 120 miles straight west of Detroit on I-96. Hope to see you there and many other troopers of the Legendary Blackhorse Regiment.